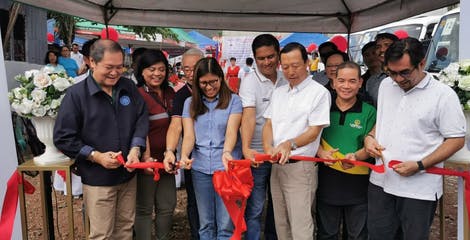 Valenzuela City joins modern PUV program as Isuzu turns over 17 units to Metroval TSC
Oct 24, 2019 | NEWS
Mr. Hajime Koso - President, Isuzu Philippines Corporation

Mr. Celso Ensila Jr.- Metroval TSC Chairman
Valenzuela City joined the government's Public Utility Vehicle Modernization Program (PUVMP) with the turnover of an initial 17 modernized PUVs from Isuzu Philippines Corporation (IPC) to Metroval TSC.
The turnover was held formally at the parking grounds of Metro Valenzuela Transport Service Cooperative Metroval TSC. A short program was held prior to the turnover.
Mr. Celso Ensila Jr., Metroval TSC Chairman stated that, "We chose Isuzu because we believe in the product that provides durability and at the same time fuel efficiency". He added, "As our cooperative grows, we are assured that through the newly acquired Isuzu PUVs, we can promote development of the transport service here in Valenzuela, improve the quality, and safety of the commuters, and to serve our mission to the community of Valenzuela."
Chairman Celso Ensila also gave route information in which PUVs will go around Valenzuela, specifically 8 units for Malanday-Pier, 4 units for Malanday-Divisoria,3 units for Malanday-Recto, 1 unit for Malanday-Sta Cruz, and 1 unit for Meycauayan-Monumento.
The 17 modernized PUVs have been assembled using the Isuzu QKR77 platform, with the rear body designed and manufactured by Almazora Motors Corp. They are all air-conditioned Class 2 PUVs with a side-facing seat configuration. The Isuzu QKR platform is assembled in the Philippines and is equipped with Euro IV-compliant 4JH1-TC Diesel Engine that delivers excellent fuel economy.
The new PUV body is compliant with Philippine National Standards (PNS 2126:2017), with the passenger cabin providing more space for passengers to move easily inside. The passenger door is safely situated on the right-hand side, facing the sidewalk. Other design features of the body include panoramic windows and windshields, full-body insulation, and automatic door closer.
The Isuzu modern PUVs are "customized with various accessories such as WiFi, GPS, CCTV, LED displays and automatic fare collection system enabling cashless operations, all geared for passengers' safety and added convenience."
For Metroval TSC, a well-established transport entity in Valenzuela and its acquisition of Isuzu modern PUVs will not only provide world-class transport to its riding public but will also make possible for the cooperative to reap the numerous aftersales advantages of IPC's vaunted "PUV-X" program.
The "PUV-X" Program enumerates Isuzu's 10-Point Advantage: 1) Isuzu's proven reliability, durability and efficiency; 2) Experienced Body Builders; 3) Accredited Accessories Suppliers; 4) An unmatched 3 years or 150,000 kms warranty coverage; 5) Nationwide dealership network of 43 outlets and counting; 6) Expert Truck Executives (Truck Elites) to help customers; 7) Nationwide parts availability, competent and trained service technicians, technical assistance from Japanese and Filipino engineers, and Isuzu Service Medic vans for roadside assistance anytime; 8) Drivers and mechanics trainings; 9) Extensive fleet management system, and; 10) All-around customer assistance.
The 17 modern PUVs that Metroval TSC is now using are the latest additions in support of the government's efforts to modernize all PUVs by June 2020, as embodied in the PUV Modernization Program (PUVMP) that envisions the replacement of some 200,000 PUVs nationwide 15 years and older with new, safe and environmentally friendly vehicles.