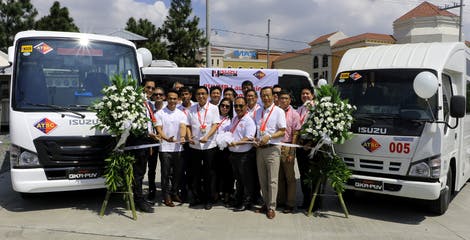 Isuzu turns over 24 units of class 2 modern PUVs to Alabang Transport Service Cooperative
Jul 16, 2019 | NEWS
Isuzu Philippines Corporation (IPC), the country's leading manufacturer specializing in trucks and light commercial vehicles, announces its PUV turnover to Alabang Transport Service Cooperative.
PUV units turned-over by Isuzu to Alabang Transport Service Cooperative
IPC has turned over 24 units of Class 2 PUVs with bodies manufactured by Almazora and Centro, to Alabang Transport Service Cooperative (ATSC) last July 12, 2019 at Muntinlupa-Cavite Expressway (MCX) attended by IPC Executives, ATSC Officers, and Municipal Officials, for their immediate deployment from Las Piñas and Paranaque to Alabang.
During the ribbon cutting to open the turnover ceremony
Alabang, part of the second district of Muntinlupa, has undergone tremendous growth mainly due to a development boom in the late 1990s. The development of high-end large scale commercial real estate projects changed its landscape which was once vast fields of cow pasture until the late 1980s into a district that houses new residential, business, industrial and commercial establishments. Some of the country's premier business district which specializes in hosting information and technology industries, hotel buildings, and other business sectors are important places of interest and landmarks of the district.
"We are glad that there is a growing number of transport cooperatives like Alabang Transport Service Cooperative who trust our brand and is confident that Isuzu will be able to serve their mission to the community." said IPC President Hajime Koso.
Alabang Transport Service Cooperative is one of the oldest and biggest cooperative in Muntinlupa, and it is evident that the cooperative grows steadily since its founding on year 1975.
IPC Executives together with ATSC Officers and Municipal Officials during the turnover ceremony
"As our cooperative grows, we are assured that through the newly acquired Isuzu PUVs, we are able to promote development of the transport service here in Alabang, improve the quality, and safety of the commuters, and to serve our mission to the community of Muntinlupa." said ATSC Chairman Bienvenido Barra.
Isuzu PUVs are designed to deliver powerful driving performance, high durability, comfort, convenience, and good transport quality. Equipped with air-condition by Coolaire, CCTV and dashcam, GPS tracking system, and automated electronic fare collection system, all for the safety, comfort, and convenience of Filipino commuters.
Isuzu's top priority is to give transport solution to Filipino Commuters by providing safer and more environment-friendly transport options. Isuzu PUVs are also equipped with PWD-friendly features for the convenience of commuters. Isuzu aims to improve the PUVs more for a better transport system.