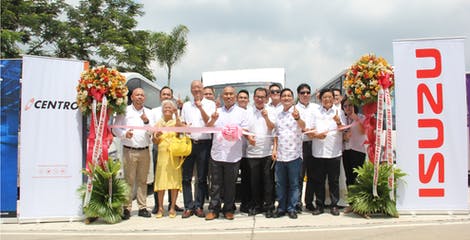 Isuzu turns over 16 modernized PUVs to Sampol-Bulac-Santa Maria-Meycauayan-Transport Service Cooperative
Aug 08, 2019 | NEWS
In a formal ceremony held last July 26, Isuzu Philippines Corporation (IPC) turned over 16 units of its modernized public utility vehicles (PUVs) to Sampol-Bulac-Santa Maria-Meycauayan-Transport Service Cooperative (SBSMM-TSC) at the Activity Center of the City Hall Annex in Barangay Sapang Palay Proper in San Jose del Monte City in Bulacan province.
After an early morning motorcade showcasing the modern PUVs that began in Sampol, passing through Santa Maria, and ending at San Jose del Monte Activity Center, IPC executives, led by Executive Vice President Shojiro Sakoda, Department Head of Fleet Sales Mario Ojales, and officers of Isuzu Quezon Avenue turned over to SBSMM-TSC officers Chairperson Elizabeth D. Villacruz and Vice Chairperson German Manao Jr. 16 Isuzu PUVs.
IPC Executives and SBSMM-TSC OFFICERS (Chairperson) Elizabeth D. Villacruz and (Vice Chairperson) German Manao Jr. during ribbon cutting
Witnessing the turnover were guests from the local and national governments, the Department of Transportation (DOTr), the Land Transportation and Franchising Regulatory Board (LTFRB), Office of Transport Cooperatives (OTC), Land Bank, Centro Manufacturing Corporation, CoolAire and Eudoo Technology.
The modern Isuzu PUVs assembled using the Isuzu QKR77 platform with rear body designed and manufactured by Centro Manufacturing Corporation, are Class 2 PUVs fitted with air-conditioning system by CoolAire and a side-facing seat configuration. The Isuzu QKR platform is assembled in the Philippines and is equipped with Euro IV-compliant 4JH1-TC diesel engine that delivers excellent fuel economy.
Isuzu Modern PUV line-up turned over to Sampol-Bulac-Santa Maria-Meycauayan-Transport Service Cooperative
The new PUV body is compliant with Philippine National Standards (PNS 2126:2017). The passenger cabin floor-to-ceiling height and gangway width provides more space for passengers to move easily inside. The passenger door is safely situated on the right-hand side, facing the sidewalk. Other design features of the body include panoramic windows and windshields, full-body insulation, automatic door closer, and provisions for persons with disabilities.
For SBSMM-TSC, a well-established transport entity in Bulacan that operates over 600 jeepneys, its acquisition of Isuzu modern PUVs will not only provide world-class transport to its riding public but will also make possible for the cooperative to reap the numerous aftersales advantages of IPC's vaunted "PUV-X" program.
The "PUV-X" Program enumerates Isuzu's 10-Point Advantage: 1) Isuzu's proven reliability, durability and efficiency; 2) Experienced Body Builders; 3) Accredited Accessories Suppliers; 4) An unmatched 3 years or 150,000 kms warranty coverage; 5) Nationwide dealership network of 43 outlets and counting; 6) Expert Truck Executives (Truck Elites) to help customers; 7) Nationwide parts availability, competent and trained service technicians, technical assistance from Japanese and Filipino engineers, and Isuzu Service Medic vans for roadside assistance anytime; 8) Drivers and mechanics trainings; 9) Extensive fleet management system, and; 10) All-around customer assistance.
The 16 modern PUVs that SBSMM-TSC is now using are the latest additions in support of the government's efforts to modernize all PUVs by June 2020, as embodied in the PUV Modernization Program (PUVMP) that envisions the replacement of some 200,000 PUVs nationwide 15 years and older with new, safe and environmentally friendly vehicles.