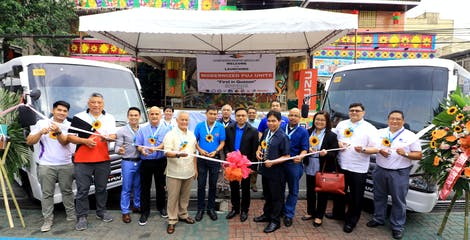 Isuzu turns over 15 modernized PUVs to Lucban transport cooperative
Jun 14, 2019 | NEWS
The municipality of Lucban, the thriving "art capital town" in Quezon province most famous for its colorful Pahiyas Festival, can now also boast of its own modernized fleet of public utility vehicles (PUVs) that will transport its visitors and residents in safety, comfort, and convenience.
In a formal turnover ceremony held last May 22 at Lucban Municipal Hall ground, Isuzu Philippines Corporation (IPC) turned over the initial 15 units of Class 2 modernized PUVs to officers and members of the Lucban Genesis Transport Service and Multipurpose Cooperative (LGTSMPC).
The formal turnover was witnessed by officials of the Land Transportation Franchising and Regulatory Board (LTFRB), Lucban OIC Mayor Armando Abutal, Land Transportation Office District Officer Wilma De Castro, Office of Transportation Cooperatives Executive Director Eugene M. Pabualan, and executives of IPC led by its Sales Division Head Joseph Bautista, and Isuzu Pagbilao General Manager Marcel Tolentino.
During the ribbon cutting with LTFRB Officials, LTO Officers, IPC Executives, and LGTSMPC officers and members
The turnover of 15 modernized PUVs to LGTSMPC represents the start of what would eventually be a total of 88 modernized PUVs plying the 60-km route between Lucban to Tayabas town in Quezon, as well as the Mauban to Lucena City route.
LGTSMPC, one of the province's largest transport cooperatives, ordered the brand-new PUV units from Isuzu for the first time, and expressed its utmost confidence that the vehicles will provide years of reliable, safe, convenient, and comfortable performance to its commuters, and will be a proud example of the government's PUV Modernization Program.
Mr. Bautista explained that the Isuzu modern PUV is roomier, safer, and more convenient to ride in.
"Our modernized PUVs using the QKR 77 truck platform with body designed and built by Almazora can accommodate up to 23 passengers. Commuters can now travel comfortably with enough legroom, headroom, and seat space in this Class 2 vehicle."
He added, "The vehicle is also equipped with features required by the PUVMP vehicle guidelines. There's the automatic fare collection system. There are three CCTV cameras installed in the vehicle, and LED destination displays."
The Isuzu QKR77 platform is assembled in the Philippines and is equipped with the Euro IV-compliant 3.0-liter 4JH1-TC CRDI diesel engine that delivers better fuel economy and cleaner emissions.
The vehicle is also built lighter to be able to run more efficiently.The body and panels, designed and produced by IPC's partner body builder Almazora Motors, is also made of lightweight but durable materials.
Mr. Bautista expressed his thanks to LGTSMPC for believing in the Isuzu brand for its landmark rollout of modernized PUVs. "IPC strives to do its very best to be every Filipino motorist's responsible partner. We have proven this time and again with our world-class roster of trucks, commercial vehicles and light commercial vehicles, and at the same time our aftersales service and parts availability have made the Isuzu ownership experience truly wonderful and worthwhile. IPC, in collaboration with wholly Filipino-owned Almazora Motors Corp, and in partnership with our financing institutions and the local government, is very glad that the people of this happy, creative town of Lucban will now get to experience a commute that truly befits their community spirit, enhanced with today's modern technologies."