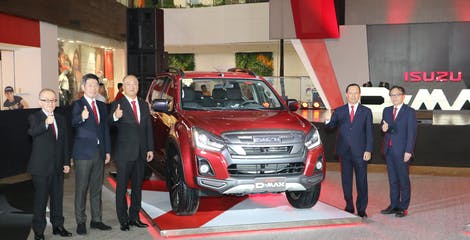 Isuzu rolls out premium pick-up variant, the new D-MAX LS-A
Sep 04, 2019 | NEWS
Sixteen years after it introduced what would become one of its most iconic diesel workhorses, Isuzu Philippines Corporation (IPC) launches the most stylish modern iteration of the D-MAX pick-up, the LS-A.
To be publicly displayed at the New Glorietta Activity Center, Makati from August 29 to August 31, the D-MAX LS-A represents nearly a century of Isuzu's experience and innovation in the design, engineering, and workmanship of diesel-powered utility vehicles. The D-MAX LS-A is infused, as well, with features that address the demands of a market that value both hard work and play, business with leisure.
At the heart of the D-MAX LS-A is the powerful and fuel-efficient 4JJ1-TCX 3.0-liter 4-cylinder In-line Blue Power Diesel engine with VGS turbo intercooler that generates 177 PS @ maximum power and 380 Nm @ maximum torque. Initially available in 4x4 variant, IPC did mention that it will also be offered in 4x2 variants in the coming months, both variants will have an option for either 6-speed automatic transmission with sequential shift or the 6-speed manual transmission with gear shift indicator.
From left to right
Mr. Kenichi Asahara, Vice President Isuzu Motors International Operations Thailand

Mr. Daisuke Takagi, General Manager , Mitsubishi Corporation

Mr. Shojiro Sakoda, Executive Vice President, Isuzu Philippines

Mr. Hajime Koso, President , Isuzu Philippines Corporation

Mr. Hirokazu Okubo, Sales Executive Officer, Isuzu Motors Limited Japan
The powerplant and drivetrain, however, are just the starting points for what makes the new D-MAX LS-A perfectly suited for the evolving modern demands of the market. Inside and out, the D-MAX LS-A comes in a complete package of features that cater to the modern Filipino lifestyle -- the lifestyle that maximizes the best qualities of the urban professional and the weekend adventurer
Boasting modern exterior styling, the D-MAX LS-A has a very dark gray front grille and bumper, coupled with side step board and rocker panel, cargo extender and roof rails.
For occupant comfort and convenience, the D-MAX LS-A is equipped with the auto-climate control air conditioning system, passive entry/push start-stop system, 12V accessory socket, three USB charging ports, 15 storage compartments and 10 cup holders.
IPC President Hajime Koso describes the reason for being of the D-MAX LS-A "Introduced in 2003, the Isuzu D-MAX pick-up has sold more than 46,000 units so far and continues to be one of the country's most popular pick-up models for its durability, fuel efficiency, and overall value for money. The new Isuzu D-MAX LS-A joins the ranks of premium pick-ups with its stylish yet functional design and competitive pricing without compromising the D-MAX's core value of being 'Tough Enough for Anything'.
In his special message at the launch, Isuzu Motors Limited Executive Officer Hirokazu Okubo traces Isuzu's experience with the pickup design to nearly a century back. "The first vehicle Isuzu produced in the market in 1922 was a pick-up truck, taking note of our expertise on the product and most especially on diesel engine technology."
He added, "Worldwide, the Isuzu D-MAX is trusted in countries like Thailand, Australia, and the United Kingdom, certainly because of its design and functionality that have gone through rigorous testing and development. The new Isuzu D-MAX LS-A variant will be a great addition to the very competitive local pick-up truck market."
The new D-MAX LS-A comes in the following colors: Cosmic Black, Sapphire Blue, Titanium Silver, Red Spinel, Splash White, Silky Pearl White. With all the added features on the D-MAX LS-A, IPC announced that there will be a more competitive pricing for this variant.
To know more about the Isuzu D-MAX LS-A, its new features and pricing, log on to www.isuzuphil.com or visit any of the Isuzu dealerships nationwide.