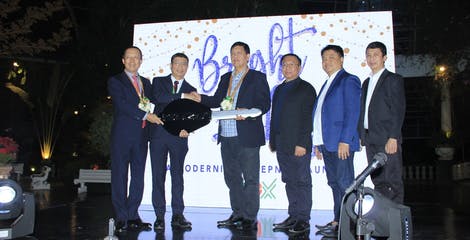 Isuzu Philippines turns over 25 units of modern PUVs to MetroExpress Connect Inc.
Nov 28, 2019 | NEWS
IPC President Hajime Koso
IADI COO Alex Paguio
Col. Renwick Rutaquio
Engr. Ric Pallesco of MCI
Mr. Jojit Duenas of MCI (Operation Manager)
Isuzu Philippines Corporation (IPC), the country's leading manufacturer and distributor of brand-new trucks, continues its effort to support the government's Public Utility Vehicle Modernization Program (PUVMP) to bring safer, more efficient, more convenient, and more environmentally sustainable transport system to Filipinos.
IPC turned over the third batch of brand-new Isuzu PUVs to MetroExpress Connect Inc. (MCI), which consists of 25 units that will ply the routes of Las Piñas to Daang Hari, Kawit, Cavite to PITX, Tanza, Cavite to PITX, and General Trias to Daang Hari.
MCI started as shuttle services group, with a fleet of no more than 20 shuttles servicing private subdivisions, providing quality transportation to communities, connecting them to commercial developments and city centers.
As the years progress, MCI have soon acquired bigger and bolder projects, widening their operation, and choosing Isuzu PUVs as their transportation hub, MCI will be able to guarantee its commuters to have a safe, seamless, and reliable transportation.
Isuzu PUVs turned over to MetroExpress Connect Inc.
IPC's modernized PUVs assembled using the Isuzu QKR77 platform and the PUV body designed and manufactured by Almazora Motors Corp, is equipped with the Euro IV-compliant 4JH1-TC diesel engine that delivers better fuel economy and cleaner emissions than jeepneys; thus guarantees its clients like MetroExpress Connect Inc. to provide quality and reliable transportation, connecting passengers and communities to their destinations the easy way.
IPC President Hajime Koso encouraged other transport companies across the country to already make that switch to safer, cleaner, more convenient, and more reliable modernized PUVs. "I have always believed that the Isuzu PUVs are truly a vehicle made by the Filipinos for the Filipinos and we are confident that these units will be able to provide a more durable, comfortable, and safe transport solution for the riding public."
For more information about Isuzu PUVs, visit the nearest Isuzu dealer, or log on to www.isuzuphil.com.