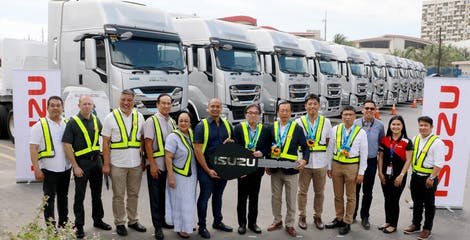 Isuzu Philippines turns over 11 EXZ QL trucks to Acro Transport and Logistics Network
Mar 16, 2020 | NEWS
Brand-new Isuzu EXZ QL turned over to Acro Transport and Logistics Network
Isuzu Philippines Corporation (IPC), the country's leading assembler and distributor of brand-new trucks, turned over 11 EXZ QL trucks to Acro Transport and Logistics Network, one of the country's biggest distribution companies, last February 28, 2020.
The 11 EXZ QL trucks represent the initial batch of Acro's total purchase order of 50 brand new trucks. Acro has been one of the loyal customers of Isuzu which also acquired Isuzu N-Series and Isuzu D-MAX for their daily operation needs.
During the turnover proceedings held at Acro Transport and Logistics Network's main warehouse in Muntinlupa City, IPC President Hajime Koso praised the partnership between IPC and Acro as the ideal example of how Isuzu vehicles transform the Filipino spirit of entrepreneurship into a major economic force for national growth.
For his part, Alfred Tumacder III, President of Acro Transport and Logistics Network Inc, remarked that having brand-new Isuzu trucks in his growing fleet provides the vital component to his company's success.
Mr. Alfredo Tumacder Jr.
Ms. Ma Rosario Benigna Tumacder
Mr. Alfred Tumacder III - President of Acro Distribution Network Inc.,
Mr. Hirokazu Okubo - Sales Executive Officer, Isuzu Motors Limited, Japan
Mr. Hajime Koso - President, Isuzu Philippines Corporation
"Isuzu trucks make it possible for me to provide my big clients the optimized, synchronized, and customized transport and distribution solutions that would best enhance our company operations," Tumacder stressed.
Tumacder added that the brand-new, modern Isuzu trucks also maximize driver productivity. "With these brand-new Isuzu trucks, our drivers' needs for a more comfortable, more reliable, safer, and more fuel-efficient yet powerful truck is fulfilled. Naturally, I get to retain more drivers in my company, which in turn enables me to provide more service to my customers. Isuzu trucks and our drivers truly are the drivers of our economy."
Acro Transport and Logistics Network Inc. itself has been one of the main drivers of the distribution sector since it started operations in 2008. In a span of 12 years, it has expanded into a fleet of 140 trucks and 120 trailers run by a workforce of 500 employees spread out in four strategically located truckyards-- its main warehouse in Muntinlupa City, Antipolo City, Santa Rosa City in Laguna, and in Manila North Harbor. The company services big-ticket clients such as Unilever, Coca-Cola Bottlers Philippines Inc, Cemex, and JG Summit, delivering products to different distribution centers nationwide.
Aside from the proven reliability, power, comfort, and efficiency of Isuzu-branded trucks, Acro Transport and Logistics Network Inc also counts on the aftersales support of the 45 authorized and strategically located Isuzu dealerships and service centers, which includes the supply of readily available parts that can be delivered promptly.
IPC also guarantees the services of "Isuzu Mobile Medics"—mobile service trucks that will go directly to wherever they are needed for immediate and hassle-free servicing and troubleshooting.
For more information on the Isuzu EXZ QL and other commercial vehicles in IPC's world-class roster, visit your nearest Isuzu dealership, or log on to www.isuzuphil.com.