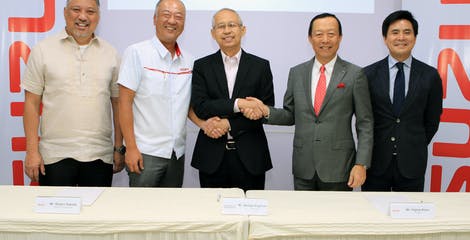 Isuzu Philippines inks 2 Mindanao dealership agreements
Dec 23, 2019 | NEWS
Bolstering its presence in the Mindanao regions for having one of the most promising growth potentials for the automotive and transport industries in the years to come, Isuzu Philippines Corporation (IPC) conducted formal signing ceremonies for two new dealerships last December 19, 2019.
Held at the Isuzu Philippines head office in Biñan, Laguna, the first dealership agreement signed was between IPC and Isuzu Tagum, with President Hajime Koso and Executive Vice President Shojiro Sakoda representing IPC, and President Walter Alvarez and Managing Director Edward Bangayan representing Image Motors Davao Del Norte Inc, signing for Isuzu Tagum.
The second ceremony was between IPC and Isuzu Pagadian, signing a memorandum of agreement (MOA) with Mr. George Ongchua, General Manager of Northern Mindanao Automotive Dealership Inc., for the establishment of a satellite office in Pagadian City.
Isuzu Tagum is strategically located at the northern portion of Southern Mindanao and lies in the intersection of three major road network system namely the 'Philippine-Japan Friendship Highway', the 'Davao-Mati-Agusan Road', and the 'Davao-Bukidnon Road' that connects the city to other major destinations in the region and for the rest of Mindanao.
As the city serves as a vital economic crossroad not only for the province, but for the entire Davao Region, the new Isuzu dealership is strategically situated in at Brgy. Canocotan, Tagum City, Davao del Norte.
On the other hand, Isuzu Pagadian is positioned at the regional center of Zamboanga Peninsula and the second-largest city in the region, bridging its nearby provinces to serve and provide quality Isuzu products, excellent after-sales service, and to become the most competitive transportation hub in the region.
Agriculture is the main economic resource of Pagadian, while several large deep-sea fishing vessels which venture into the Sulu Sea and West Philippine Sea, make Pagadian fish port their base of operation.
Establishing Isuzu presence in Pagadian will be the response to its growing transportation and logistics requirements, most especially for Isuzu trucks.
Isuzu Pagadian and Isuzu Tagum will feature the newest Isuzu showroom design that provides a better atmosphere and better kind of service. Both dealerships also comprise the strategic "triangle" of supply and service of world-class Isuzu vehicle brands in Mindanao, covering Northern Mindanao, Zamboanga Peninsula, and Davao Region.
Isuzu Tagum held its groundbreaking ceremony last July 11, 2019 and the soon to rise dealership in Tagum will be completed in May 2020, while Isuzu Pagadian dealership will be completed in February 2020.
For more information, log on to www.isuzuphil.com.