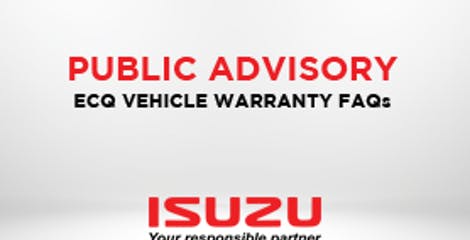 ISUZU PHILIPPINES CORPORATION ECQ Vehicle Warranty Extension FAQ
Apr 28, 2020 | NEWS
WHAT IS ECQ VEHICLE WARRANTY EXTENSION?
It is an assistance extended by IPC to valued Isuzu customers to address vehicles that lapsed or with maturing warranty and PMS schedules within the ECQ period. IPC released an advisory on the following for ALL Isuzu vehicles
a. Vehicle Warranty Extension
All Isuzu vehicles nationwide with warranty coverage lapsing within the ECQ period are to be extended until May 31, 2020.
b. Vehicle PMS servicing schedule
All Isuzu units with scheduled Period Maintenance Service (PMS) within the quarantine period are allowed to re-schedule PMS once the ECQ has been lifted.
Vehicles Covered by Warranty Extension
Isuzu vehicles sold by Isuzu Philippines Corporation that were registered and normally operated in the Philippines and its warranty coverage lapsed within the announced Enhanced Community Quarantine (ECQ) period.
Start of Warranty Extension Period
The warranty extension period begins on the date the vehicle lapsed during the ECQ period. ECQ duration is from March 17 – April 30, 2020. As support, IPC decided to cover the extension until May 31, 2020.
*Please note that the standard procedure stated in your vehicle's Servicing and Maintenance Guide Warranty Record Book shall apply with the provided extension. You may also refer to this link, isuzuphil.com/warranty-policy for further information with your vehicle's warranty claim procedure.
Vehicle's PMS servicing
Vehicles Covered
All Isuzu vehicles which are already due for Periodic Maintenance Service (PMS) check-up and was not able to have it serviced due to the implementation of the nationwide ECQ.
Customer's Responsibility
Our valued customers are advised to contact and schedule their Isuzu vehicles for PMS servicing appointment with their servicing Isuzu dealer once the quarantine period has been lifted. This is to ensure the top condition of your vehicle.
Likewise, it is expected that there will be several customers to accommodate once dealer operation resumes. We encourage valued customers to have an appointment instead of walk-in for convenience and to avoid any delay with the servicing of your vehicles. Our dealer Service Advisor and Customer Relations Officer are glad to assist on this matter. You may refer to this link for our authorized Isuzu dealer's contact information, isuzuphil.com/dealers.
Thank you for your continuous patronage with Isuzu. We sincerely hope for everyone safety in this difficult time. Should you have inquiries, you may reach us through Customer Service email, [email protected].