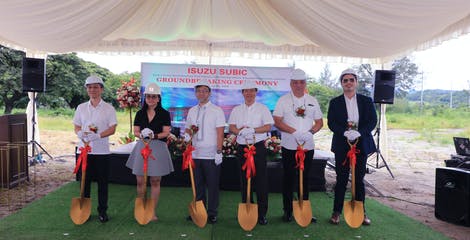 Isuzu Philippines Corporation breaks ground for a new dealership in Subic
Aug 06, 2019 | NEWS
On Friday, July 26 at 9:00am, Isuzu Philippines Corporation (IPC) breaks ground at Subic Gateway, Subic Bay Freeport Zone, the site of the newest Isuzu dealership at Subic.
Joining IPC to share remarks at this groundbreaking ceremony are Velocity Motor Sales Corporation Executives, and (list of other guests).
From left to right:
Mr. Jeffrey Hao Lin (Chairman and Treasurer, Velocity Motor Sales Corporation)
Atty. Wilma "Amy" Eisma (Chairperson and Administrator, Subic Bay Metropolitan Authority)
Mr. Jason Hao (President, Velocity Motor Sales Corporation)
Mr. Hajime Koso (President, Isuzu Philippines Corporation)
Mr. Joseph Bautista (Division Head for Sales, Isuzu Philippines Corporation)
Mr. Renato Lee III (Senior Deputy Administrator for Business & Investment, Subic Bay Metropolitan Authority)
"This new dealership at Subic marks an exciting next chapter both for IPC and for the motorists in Subic and nearby areas," said Mr. Hajime Koso of IPC. "We are engaged in a number of powerful partnerships that made the arrival of this moment possible, and we are proud to build a dealership that will cater the Subic community."
Subic is positioned to become the most competitive international services and logistic center in Southeast Asia, continuously leading to be one of the country's major economic engines receiving numerous investment projects. With these opportunities, Isuzu Subic is poised to become an automotive and transport solution hub, with a total land area close to 3,800 square meters, its showroom can display 4 units; while the service area has 7 light commercial vehicle and 2 truck service bays, ready to cater to the fast-growing province of Zambales.
It is important for Isuzu Philippines to continuously provide transport solutions to the Filipinos, and expansion of dealership is just one way for Isuzu to offer and provide quality product and excellent after sales service that will give the customers the edge they need to be successful in their businesses and personal needs.
Isuzu Philippines Corporation currently has 43 dealerships nationwide, offering world-class vehicles, and exceptional after-sales services.
Log on to www.isuzuphil.com for Isuzu's list of dealerships.