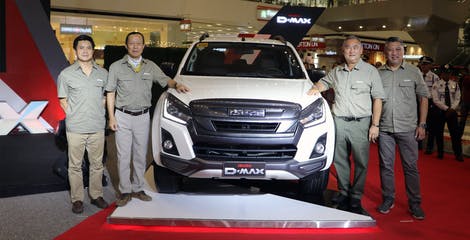 Isuzu Philippines brings 'D-MAX 4x4 Toughness' in Davao City
Sep 23, 2019 | NEWS
Mr. Yasuhiko Oyama- IPC Vice President for Sales

Mr. Hajime Koso - IPC President

Mr. Jockson Liu – President & General Manager Isuzu Davao – Southern Motors of Davao Inc.

Mr. Joseph Bautista – Division Head for Sales
A week after its successful showcase of the new D-MAX LS-A pick-up in Cebu City, Isuzu Philippines Corporation (IPC) made its way down to the biggest city in the south, Davao City
In a 3-day test drive and display event at SM Lanang, people in Davao were able to witness the roll-out of the most stylish iteration of one of Isuzu's iconic diesel workhorses. From September 20-22, IPC made SM Lanang Open Grounds the playground for the new D-MAX LS-A for the "Tough Enough for Anything" 4x4 test drive event, specially conducted to showcase the off-road capabilities of the D-MAX.
During the event, IPC created a special "4x4 Tough Test Course" that featured different obstacles that truly put to the test the off-road capabilities of the D-MAX LS-A. The test drive included courses like the lateral descent ditch crossing, cross axle articulation, elephant holes, 45-degree camber sides and the highlight 40-degree hill climb and descent course. These courses, however, appear to be an easy task to the D-MAX, which has proven its tough performance and durability over the years.
With its reliable 4JJ1-TCX 3.0-liter 4-cylinder In-line Blue Power Diesel engine with VGS turbo intercooler, the D-MAX can produce up to 177PS maximum power and 380N-m maximum torque capable of traversing any terrain.
Complementing its exceptional off-road performance, the new D-MAX LS-A features a very stylish exterior as it now comes with a new redesigned front bumper and dark gray radiator grille, side view mirror, fender lip, cargo extender, and roof rail that will surely turn heads on the road.
Apart from the 4x4 Test Drive, IPC also made a special Mindanao launch and display event at the SM Lanang Atrium, for clients to check the units more closely after they have gone through the test drive or vice versa.
"The new D-MAX LS-A has a true character of a pick-up. Through this test drive activity, we will be able to showcase to the public its exceptional off-road capabilities, strong under chassis and powerful engine. Bringing this event in Davao is strategic, as expect to make a comeback in the pick-up segment specially in this region," said IPC President Hajime Koso.
The new D-MAX LS-A comes in the following colors: Cosmic Black, Sapphire Blue, Titanium Silver, Red Spinel, Splash White, Silky Pearl White. With all the added features on the D-MAX LS-A, IPC announced that there will be a more competitive pricing for this variant.
To know more about the Isuzu D-MAX LS-A, its new features and pricing, log on to www.isuzuphil.com or visit any of the Isuzu dealerships nationwide.