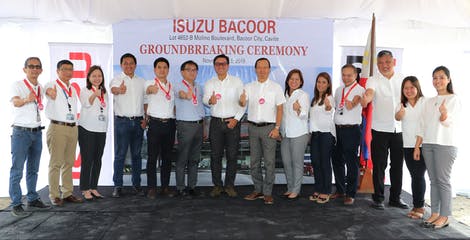 Isuzu Philippines breaks ground in Bacoor City
Dec 06, 2019 | NEWS
IPC President Hajime Koso during his welcome remarks
Isuzu Philippines Corporation (IPC), the country's leading brand-new truck manufacturer and distributor, held the formal groundbreaking ceremony for its dealership at the progressive city of Bacoor in Cavite Province.
Bacoor City, strategically located 15 kilometers southwest of Manila on the southeastern shore of Manila Bay, has been considered as one of the fastest-growing gateways to metropolitan Manila. With the rapid socioeconomic developments between the National Capital Region and Cavite, Bacoor has become the ideal location for businesses that aim to reap the benefits of heightened economic activities in both Metro Manila and the Calabarzon (Cavite-Laguna-Batangas-Rizal-Quezon) economic growth corridor.
Through Isuzu Automotive Dealership Inc (IADI), IPC secured the Isuzu Bacoor dealership located at Lot 4652-B along Molino Boulevard. Isuzu Bacoor, with a total land area of over 4,000 square meters, will showcase Isuzu's latest showroom design, featuring 6 light commercial vehicles and 2 truck service bays.
IPC Executives together with IADI Executives
Isuzu Bacoor will be operated by IADI, an authorized dealer of Isuzu commercial vehicles and wholly owned by Ayala Automotive Holdings Corporation. IADI has been IPC's partner since 1996 and covers a nationwide network of 9 dealerships.
During the ceremony, IPC President Hajime Koso remarked that the time was appropriate for IPC to establish its newest dealership in the city.
"I see the current potential of Bacoor. Business activities are booming, especially in retail, banking, service and manufacturing sectors. That is why Bacoor has the highest family income in the province of Cavite, making the city an ideal place to establish small and medium-sized businesses. I also see the city's future potential. I believe Bacoor is not just the gateway to NCR. Soon, Bacoor itself will become a strong city, conducive to the IT-BPO and manufacturing industries," Koso said.
He added that once Isuzu Bacoor becomes fully operational, the dealership could be the city's invaluable partner to further progress. "This groundbreaking ceremony marks the construction of our new dealership here in Bacoor City, which demonstrates our dedication and commitment to create tailored transport solutions that make the greatest difference to individuals and businesses in the Philippines," Koso added.
For more information about IPC and its roster of products and services, log on to www.isuzuphil.com, or visit any Isuzu dealership near you.