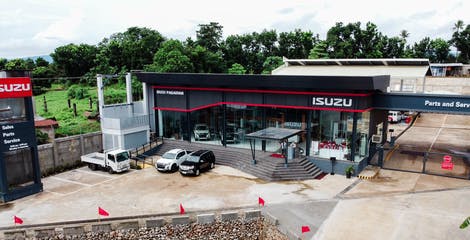 Isuzu PH opens door in Pagadian City with 3rd IOS dealership facility
Aug 07, 2020 | NEWS
Isuzu Philippines Corporation (IPC) continues its aggressive expansion and modernization efforts with the recent opening of its 43rd dealership and its third Isuzu Outlet Standardization (IOS) dealership facility, this time in Pagadian City in Zamboanga del Sur.
In ceremonies streamed online to the motoring media on August 7, 2020, executives of IPC and North-Min Automotive Dealership Inc (NMADI) presented a walk-through of Isuzu Pagadian, which is strategically located at Barangay Tiguma, one of the rapidly developing commercial and agricultural locations in Pagadian City.
To serve as a satellite of Isuzu Butuan, Isuzu Pagadian showcases a total floor space of 3,871 sqm that will include a 4-vehicle showroom display, service bays that can accommodate five light commercial vehicles and two commercial vehicles, a wash bay and wheel alignment facility, and five slots for body repair and paint works.
Isuzu Pagadian' IOS will enhance the overall customer journey, highlighting an aesthetic, functional design that not only provides a more spacious and organized area for its users, but expresses Isuzu's new brand identity and its long-standing reputation for durable and reliable products. The new facilities will also contribute greatly to a more seamless automotive retail experience for both customers and dealership personnel.
During the virtual presentation, IPC President Hajime Koso remarked, "The addition of a new Isuzu dealership in our rapidly expanding network is a strong testament to the growing preference for the Isuzu brand as we continue to widen our reach to our customers in Region 9. This is another major milestone that we share with our new dealer partner North-Min Automotive Dealership Inc, and we look forward to serving our customers in this area with the Isuzu Pagadian."
Mr. George Ongchua, Isuzu Pagadian General Manager, described Isuzu as a "renowned automotive brand in Mindanao." He added, "Isuzu trucks and light commercial vehicles have proven time and again that they are perfectly suited to the varying and challenging terrains and road conditions of Mindanao. With the establishment of Isuzu Pagadian that is of world-class standards, we are very confident that the good reputation of the Isuzu brand in the region will be extended to its dealership services. Pagadian is one of the most industrialized and business-savvy cities in Mindanao, and we're very optimistic that people and businesses in this side of the Zamboanga Peninsula will come to us to provide them with Isuzu products and services."
Now on its 23rd year, IPC aims to further strengthen its market leadership in trucks and LCVs in the country, particularly in the Philippines' fastest-growing regions. With the Isuzu Pagadian, new world-class IOS dealership facility, Pagadianons will have one more reason to make Isuzu "Your Responsible Partner".