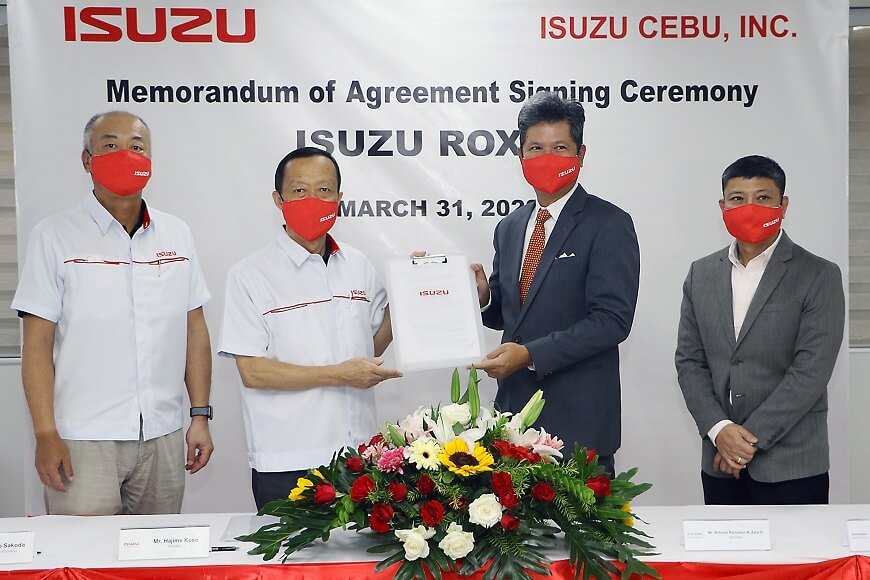 Isuzu PH, Isuzu Cebu Inc. signed contract formally opening Roxas dealership
Apr 05, 2022 | NEWS
Boosting its presence in the Visayas region, a new Isuzu dealership will soon open in Roxas City, as Isuzu Philippines Corporation (IPC) and Isuzu Cebu Inc. (ICI), conducted formal signing ceremony of the Memorandum of Agreement in the afternoon of March 31,2022.

Held at IPC headquarters in Binan, Laguna, IPC was represented by its President, Hajime Koso and Executive Vice President, Shojiro Sakoda, while Isuzu Roxas was represented by AC Motors President, Antonio A. Zara, and IADI Chief Operating Officer, Alex Paguio. Isuzu Roxas will be managed by ICI, a dealer group of AC Motors, an Ayala company.
Isuzu Roxas Façade
The expansive 3,500-sqm Isuzu Roxas dealership is located at Barangay Bolo, Iloilo East Coast - Capiz Rd, Roxas City. It will feature the new Isuzu Outlet Standard (IOS) which has a cleaner and more streamlined interior and facade. Its 426-sqm showroom and service area can accommodate multiple vehicles for display and service.
In his brief remarks, IPC President Hajime Koso expressed delight that despite the challenges they all experienced in the past 2 years, they are now one step closer and that he is excited for the grand opening of this newest addition to the Isuzu network. He also expressed confidence that under ICI's leadership, Isuzu Roxas will bring in more sales for Isuzu.
Koso said, "I would like to take this opportunity to thank Isuzu Cebu, Inc. (ICI), for supporting our expansion project and complying with our Isuzu Outlet Standard or IOS. As you may all know, we are on our "road to 50 dealerships" and today seals additional outlet nationwide. We have been wanting to further establish our presence in Western Visayas."
"On behalf of Isuzu Philippines Corporation, I extend our heartfelt congratulations to ICI for this exciting new outlet. We are confident that with your leadership, Isuzu Roxas will bring in more sales for the network. We are all looking forward to the grand opening of Isuzu Roxas." Koso added.
Zara stated, "The addition of a new Isuzu dealership in our rapidly expanding network is a strong testament to the growing preference for the Isuzu brand as we continue to widen our reach to our customers in Western Visayas." "Roxas City has emerged into a booming city with a strong economic development brought by different businesses citywide and we are confident that Isuzu Roxas can cater to more customers in the region," he added.
Isuzu Roxas is slated to open and begin operations in second half of 2022. By then, it would become the 48th dealership in IPC's dealer network designed with a modern and functional facility that will serve their customers in the area.
Visit Isuzu Philippine's official website at www.isuzuphil.com and follow their Facebook page at www.facebook.com/IsuzuPhilippines. to be the first to know the latest news and updates from the brand.