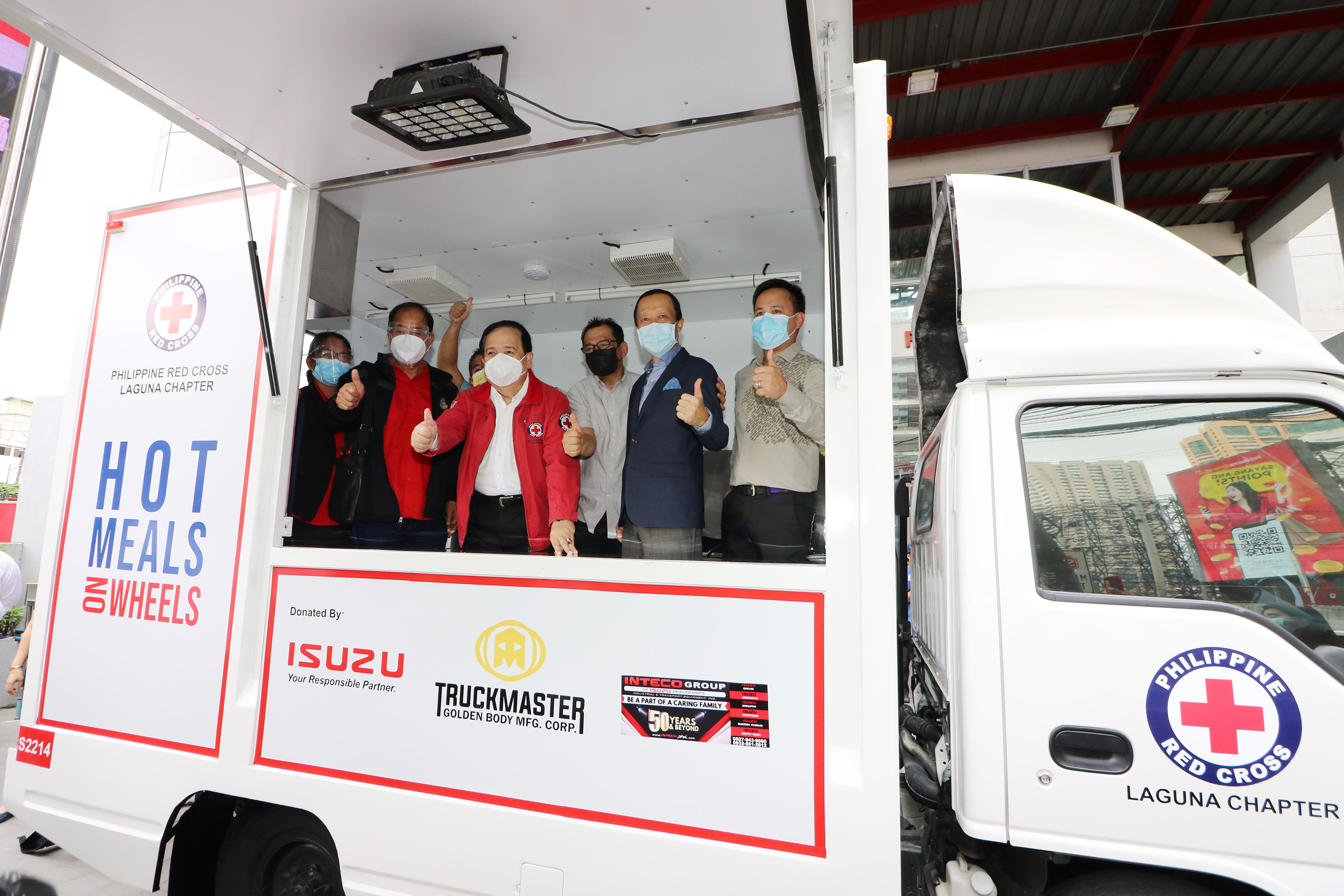 Isuzu PH donates 'Mobile Kitchen' to Philippine Red Cross
Jan 18, 2021 | NEWS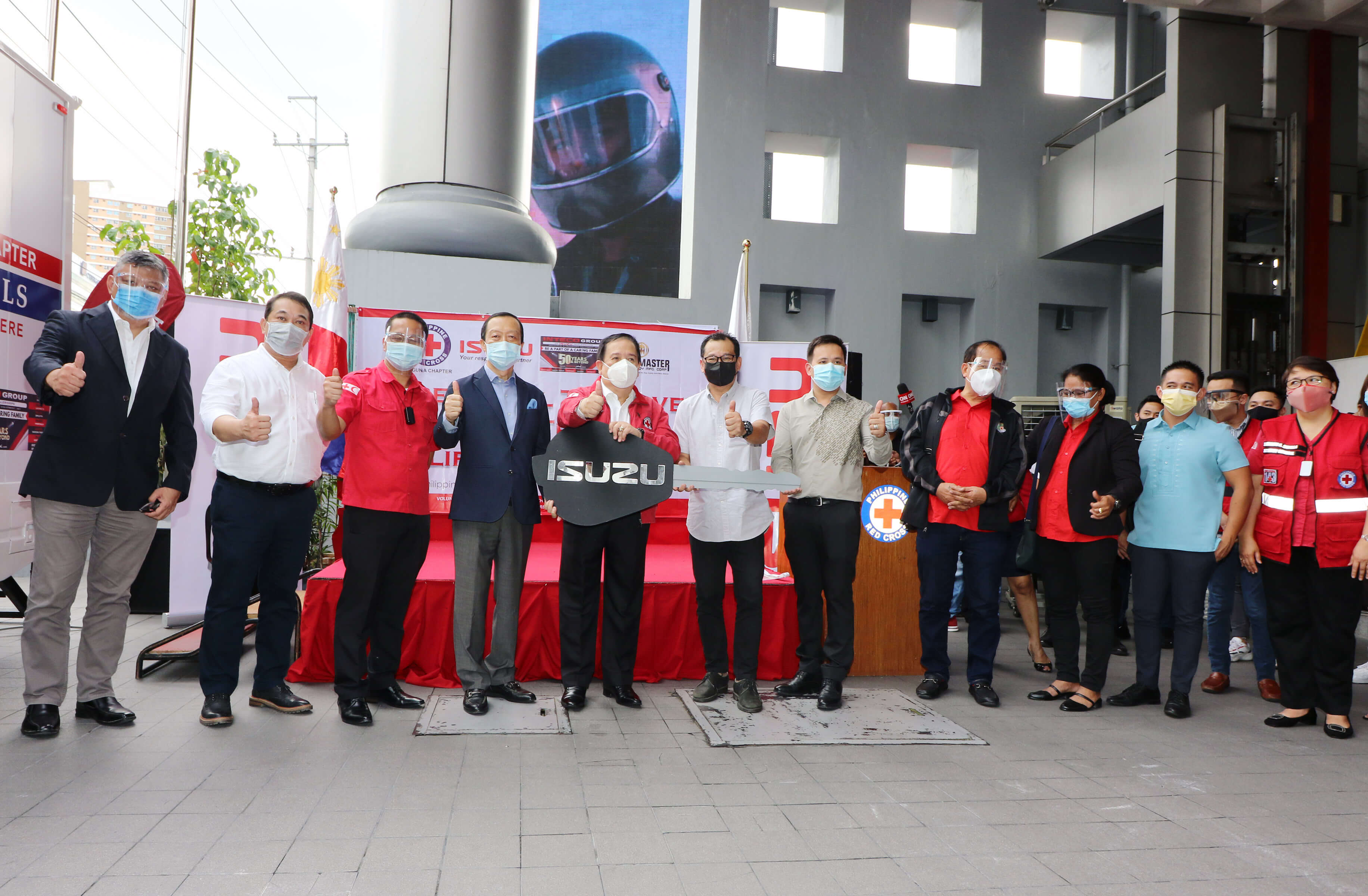 From Left to Right:
Mr. Joseph Bautista, Division Head for Sales
Mr. Mario Ojales, Department Head, DSA
Mr. Frank Sorromero, Chapter Administrator - Laguna Chapter
Mr. Hajime Koso, President IPC
Mr. Richard Gordon, Chairman and Chief Executive Officer of Philippine Red Cross
Mr. Raymond Jarina, President Inteco
Mr. Johnny Pronaci, President Truckmaster
Philippine Red Cross officials
Isuzu Philippines Corporation (IPC), true to its corporate mantra of being "Your Responsible Partner", donated one mobile kitchen truck to the Laguna Chapter of the Philippine Red Cross for the latter's "Hot Meals on Wheels" emergency mass feeding program.
The formal turnover of the Isuzu Mobile Truck was held on January 8 at the Philippine Red Cross Head Quarters. Representatives from IPC, led by IPC President, Mr. Hajime Koso as well as officers of the Philippine Red Cross, led by Chairman Richard Gordon and Philippine Red Cross Laguna Chapter, headed by Mr. Frank Sorromero witnessed the simple ceremonies.
"During the COVID-19 pandemic, life's emergencies don't stop and neither does the work of Philippine Red Cross. Each day, indigent Filipinos rely on them to help prevent and lessen their suffering. Philippine Red Cross ensures that Filipino families have access to food and other basic needs in light of the heavy economic cost of the pandemic," said Koso.
The Isuzu Mobile Kitchen is equipped with complete mini kitchen that can cook, prepare, and serve hot meals quickly and efficiently right where they are needed. Which is ideal for the daily operation of Phil. Red Cross, especially in their various feeding programs and disaster response operations nationwide.
IPC and the Red Cross have had an active partnership in responding to disasters and national emergencies in previous years. Last year, Phil. Red Cross was among the partner recipients of IPC's "Kasama Mo" campaign, which has been IPC's continuing response to the global pandemic. IPC also donated one unit of D-MAX pick-up to Red Cross to assist in their relief operation during the Taal Volcano Eruption.
This donation, however, is special since IPC is joined by its long-time dealer group INTECO as represented by its President Mr. Raymond Jarina and trusted body builder Truckmaster headed by Johnny Pronaci, in customizing the mobile kitchen body of the Isuzu truck, making sure it will be safe for long distance travel and can efficiently connect to water and power supply as needed.
To know more about IPC's extensive corporate social responsibility efforts and its world-class roster of commercial and light commercial vehicles, log on to www.isuzuphil.com.