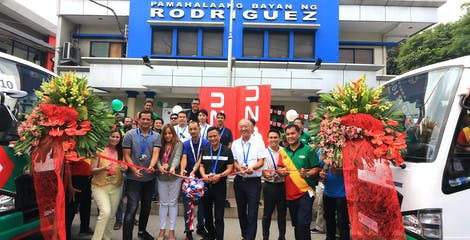 Isuzu first to turnover 15 units of modernized Class 3 PUVs to Metro Comet Transport Cooperative
Jun 14, 2019 | NEWS
Isuzu Philippines Corporation (IPC), the country's leading maker and distributor of trucks and commercial vehicles, became the first to turnover Class 3 modernized public utility vehicles (PUVs) to Metro Comet Transport Cooperative.
This milestone was achieved last May 18, 2019 in front of the Municipal Hall of Rodriguez, Rizal.
A total of 15 brand-new Isuzu QKR77 light-duty trucks configured as Class 3 PUVs using the Almazora body were formally turned over to the Metro Comet Transport Cooperative for their immediate deployment along the Rodriguez, Rizal and Cubao, Quezon City loop.
Attending the turnover ceremonies were IPC executives led by IPC Executive Vice President Shojiro Sakoda and IPC Sales Division Head Joseph Bautista, Rodriguez local government officials, and Metro Comet Transport Cooperative officers led by its Chairman, Mr. Ed Comia.
IPC Executives and Metro Comet Cooperative Officers during the ribbon cutting
The first batch of 15 modern PUVs is envisioned to replace the current UV Express fleet plying the Rodriguez to Cubao route. Mr. Bautista explained that, unlike the current UV Express vans, the Isuzu modern PUV is more spacious, safer, and more convenient to ride in.
"Our modernized PUVs using the QKR 77 truck platform with body designed and built by Almazora can accommodate 23 seated passengers, with each seated passenger enjoying 400mm of width allowance, legroom of 650mm, and standing height of 1.75 meters. Commuters can now travel comfortably with enough legroom, headroom, and seat space."
He added, "The vehicle is also equipped with features required by the PUVMP vehicle guidelines. The automatic fare collection system by Eudoo allows passengers to just tap their cards whenever they enter and exit. The vehicle's GPS tracking system can now pinpoint every passenger's point of entry and exit, so their fares will be based on the distance plotted by the GPS system. There are cameras installed in the vehicle; one facing the passengers, another facing the door, and then another installed at the dashboard facing traffic. The vehicle is also equipped with Wi-Fi which can accommodate online activities of all passengers and equipped with air condition by coolaire."
The Isuzu QKR77 platform is assembled in the Philippines and is equipped with the Euro IV-compliant 3.0-liter 4JH1-TC CRDI diesel engine that delivers better fuel economy and cleaner emissions. For safer operations, the vehicle is also equipped with a speed limiter that prevents the vehicle from running faster than 60 kph.
In his speech before the official turnover ceremony, Mr. Sakoda declared: "It cannot be denied that Isuzu has already created a name for the Filipino drivers and operators as their reliable partner. Isuzu commits itself in providing functional and innovative transport systems not only for the welfare of Filipino businesses and families, but also for a greener and safer environment. Today, we are very proud to say that Isuzu not only achieved another milestone but also continued its legacy by having these Isuzu PUVs to run the public roads under the government's PUV Modernization Program. With these Isuzu PUVs, we are truly confident that we will be able to provide a more comfortable and convenient ride to our public commuters."
Sakoda also encouraged other transport cooperatives to modernize their own PUV fleets using the world-class Isuzu brand and its partner body builders.