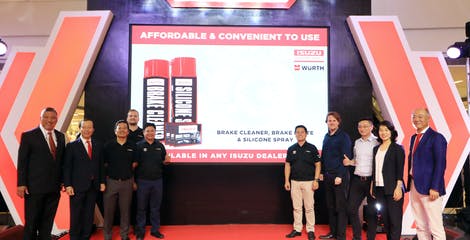 Isuzu and Wuerth enter into parts partnership
May 14, 2019 | NEWS
Isuzu Philippines Corporation executives together with Wuerth executives, during the 'I LOVE ISUZU' campaign launch
Stretching the full potential of its parts sales business, Isuzu Philippines Corporation (IPC) entered into a one-year partnership with the Philippine's division of the Wuerth Group starting April 1, 2019.
In the partnership, Wuerth will manufacture the Isuzu Silicone Spray (500 mL) which removes unusual squeaking sound on window glass run channel and provides good finish on plastic and rubber; the Isuzu Brake Cleaner (500 mL), cleans and eliminates dirt and grease on brakes; and the Isuzu Brake Paste (5.5 grams) to prevent unusual noise or squeaking on brakes. Aside from these, Wuerth is also responsible in shipping these products directly to IPC's dealer network.
Isuzu's commitment to be a reliable partner strengthens by offering only high-quality products manufactured by Wuerth, one of the leading quality brands for assembly technology. Isuzu guarantees that through these new products, customer satisfaction will increase. Isuzu vehicle parts and cleaning items will be available at Isuzu dealerships, making it a one-stop-shop to offer customer convenience.
The German-based Wuerth Group, founded in 1945, is a worldwide wholesaler of chemicals, electronic and electromechanical components, installation material, and automotive hardware. Its time-tested automotive parts-related products have passed the stringent standards of both IPC and Isuzu Motors Limited in Japan. As such, IPC guarantees that all its authorized dealers across the country use only genuine parts, accessories and lubricants in its trucks and light commercial vehicles (LCVs).