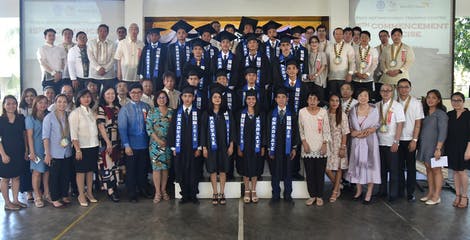 IPC, TESDA hold graduation ceremonies for 15th batch of Auto Mechanic Training Program in Tacloban City
Mar 26, 2019 | NEWS
Isuzu Philippines Corporation, in pursuit of its corporate social responsibility objective of uplifting the lives of the youth through free training and education, held on February 27 the graduation ceremonies of the 15th batch of the Isuzu-TESDA Auto Mechanic Training Program at the TESDA (Technical Education and Skills Development Authority) Region 8 Training Center Compound in Barangay Abucay, Tacloban City, Leyte province.
On the same occasion, IPC and TESDA conducted the recognition ceremony for the 16th and 17th batches of the Program.
Started in November 2008 conceptualized by Isuzu Motors Limited (IML), the vocational training program has seen IML, IPC, and TESDA collaborating to impact the lives of a total of 248 disadvantaged youth. IML supports the ISUZU-TESDA Auto Mechanic Training Center Project by providing funds needed for the project operation while IPC hasprovided technical guidance to both students and trainers.On the other hand, TESDA provides the training center, equipped with all the needed equipment, to implement the training programs up to National Certificate (NC) Levels III and IV. After the trainees' graduation, both entities actively endorse these graduates to industry firms (preferably within the IPC network) that need highly skilled mechanics for permanent jobs.
The 15th batch had a total of 18 graduates come up on stage to receive their certificates. The moment these youngsters receive their certificates have often been a highly emotional experience, as their parents tearfully embrace their sons or daughters, knowing that their lives have most likely turned for the better from then on.
This opening up of opportunities was reflected in the inspiring message of IML Senior Counselor Yoshinori IDA when he addressed the 15th batch of graduates and Batch 16 and 17 trainees: "Since you left home and your parents two years ago, you have worked diligently so much so that all of you have successfully passed the NCIV. Your father, mother, teachers and everyone involved are all delighted with your achievements. Tomorrow, you will set off on a new journey after two years of hard work and turn your dream into a reality. You will be pursuing different career paths but keep a close-knit relationship with your fellow graduates and march forward."
IDA added shining examples of past graduates' achievements in the local and global automotive arena.
" 32 of them have chosen to work overseas and the number is increasing year by year. In October 2018, two of the graduates joined a dealership in Tokyo, Japan and one graduate currently works for Isuzu. I expect every year two or three students will be offered to work in Japan.
"In the prestigious Isuzu I-1 Grand Prix World Technical Competition in Japan that sees many countries participate in, Team Philippines has placed consistently in the top three since 2014. We were champions in 2015 and 2018. The graduates of this program, although still early on in their service careers, participated in the contest. They have proven that we truly produce world-class graduates."
With executives and officers of Isuzu Motors Limited from Japan, IPC, and BM Domingo Motor Sales Inc as witnesses, the graduating Batch 15 students as well as the upcoming Batch 16 and 17 trainees gathered together with their families to convey their gratitude for this once-in-a-lifetime opportunity.
Rommel V. Fuerte, Executive Director of World Vision Development Foundation, which serves as the program partner, closed the program with these inspiring words:
"The lives of 248 families and their children have been transformed for the better. Indeed, the goodness of helping even just one child goes a long way. The beauty of this program is that the benefits to the child and to his or her family do not end there. Through the facilitation of spiritual formation activities and sessions, our trainees were given the opportunity to be solidly founded on values and spiritual well-being. All our graduates are living testaments to our concerted effort -- IPC, TESDA, and World Vision."