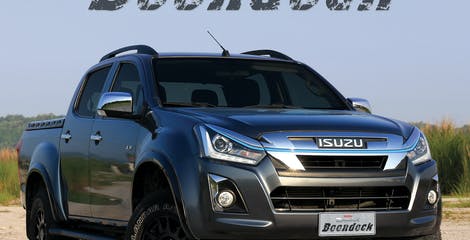 'I Love Isuzu' campaign shifts to Sta Rosa, as the D-MAX Boondock debuts in 'Open House'
May 29, 2019 | NEWS
A month after the festive and successful launch of the "I Love Isuzu" campaign last April 25 at the Festival Supermall in Alabang, Muntinlupa City, Isuzu Philippines Corporation (IPC) shifts the celebration a bit further south at Isuzu Santa Rosa.
The focus of the "Open House" has now been the launch of the new Isuzu D-MAX Boondock.
The "Open House" concept, part of the "I Love Isuzu" campaign, makes Isuzu Santa Rosa dealership, its vehicle roster and aftermarket services, closer to its customers and potential buyers by way of fun and engaging activities, contests and promotions; the introduction of the new D-MAX Boondock.
The festivities started early with the motorcade of 24 vehicles drumming up excitement along the designated route from a SHELL station in Biñan going to the dealership.
The D-MAX Boondock was finally revealed after IPC Product Planning Head Robert Carlos described the new and exciting details about the pick-up.
And based on initial feedback by customers and members of the D-MAX Club coming from Team Isuzu Pilipinas and Team ICE in attendance, the D-MAX Boondock Edition packs in more of the tough, durable, and powerful persona that truly befits its name, its intended natural habitat.
The D-MAX Boondock Edition fits the utilitarian vehicle profile sought after by the premium lifestyle, with its higher ride height of 247 mm, 1,900 mm overall height, off-road look, and a muscular stance that looks tough enough for anything that comes its way.
Based on the popular D-MAX 3.0L LS, the D-MAX Boondock Edition is fitted with 265/70 R 17 All-terrain tires wrapped around black alloy wheel R17 rims. This all-terrain tire has been engineered to provide ultimate traction across various conditions, whether rolling down the highway or leaving the pavement behind.
Monotube nitrogen-charged performance shock absorbers ensure instantaneous response to changing road conditions and offering faster damping reaction. As a result, improved steering control on different terrain and driving conditions is achieved.
The steel side steps not only give easy access but offer valuable protection to the pick-up body. The honeycomb design with the Boondock logo also helps in no-fuss cleaning and provides better traction during ingress and egress.
To complement the overall look, the D-MAX Boondock Edition is equipped with roof rail, cargo extender, rocker panel, over fender, and a massive Boondock decal installed at the tailgate.
Of course, the D-MAX Boondock Edition walks the talk, with its powerful, Euro-4 emissions rated 4JJ1-TCX 4-Cylinder in-line Blue Power 3.0-liter diesel engine with turbo intercooler and VGS Turbo Charger mated to a 6-speed manual transmission with gearshift indicator or a 6-speed automatic transmission with sequential shift. The D-MAX Boondock Edition is able to generate maximum power outputs of 177 PS at 3,600 RPM and 380 Nm of torque at 1,800 to 2,800 RPM.
Available in Cosmic Black and Galena Gray colors, the Isuzu D-MAX Boondock Edition is priced at P1.390 million for the D-MAX 3.0 4x2 LS MT Boondock, and P1.455 million for the D-MAX 3.0 4x2 LS AT Boondock.
Beyond the debut of the Isuzu D-MAX Boondock Edition, the "Open House" in Isuzu Sta. Rosa underscores how valuable Isuzu customers and the Filipino motoring public are to IPC, and it shows once more in the "I Love Isuzu" campaign in the dealership.
The "I Love Isuzu" campaign has entailed months of research, planning, and collaboration among IPC and its dealers, business partners, suppliers, and the various Isuzu auto clubs across the country. The campaign perfectly represents IPC and continues the good relationship with long-time clients and partners.
The "I Love Isuzu" campaign has hinged on not just Isuzu vehicles' exceptional durability, reliability, power, performance, and fuel-efficiency, but also on the entire motoring lifestyle experience of their owners and their families and friends, the kind of lifestyle experiences that have evolved into fond memories throughout the decades.
Isuzu Sta. Rosa's "Open House" as an integral part of the campaign, has lined up various activities and rewards schemes for its clients, customers and stakeholders, including: Special 10K worth of Isuzu Parts Coupon for closed transactions, 3K worth of SHELL Fuel Voucher for every successful referral offered to existing clients and 20% Isuzu Genuine Parts Discount. In addition to this, a whole day of bankers' and client test drive, Fleet Service Clinic and open service shop for clients.
To know more about IPC's "I Love Isuzu" campaign, upcoming Isuzu Dealer Open House schedules, and the D-MAX Boondock Edition as well as the complete roster of Isuzu commercial vehicles and light commercial vehicles, visit your nearest Isuzu dealer or log on to www.isuzuphil.com.