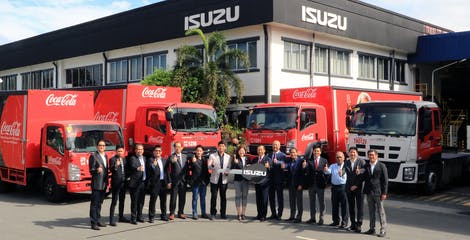 Coca-Cola and Isuzu partner to champion safety and sustainability in fleet operations
Dec 12, 2019 | NEWS
IPC President Hajime Koso during his Opening Remarks
Coca-Cola Beverage Philippines, Inc. (CCBPI), the bottling arm of Coca-Cola in the country, has partnered with Isuzu Philippines Corporation (IPC)— the country's leading manufacturer of brand-new trucks— to further enhance safety and sustainability within its logistics operations. 95 top-of-the-line vehicles have been turned over to Coca-Cola's already expansive delivery fleet.
Coca-Cola operates one of the biggest truck fleets in the Philippines, with almost 3,000 trucks and over 2,000 sales service vehicles. Approximately 2,500 shipments per day are undertaken, transporting to 20,000 doors across the country. For operations this massive in scale, the Company implements a road safety framework built on three pillars: organization and culture, vehicles and technologies, and the drivers. Each pillar, in turn, has different programs and initiatives that address capability development, technical standards and monitoring, and driving performance and engagement.
Executives from Isuzu Philippines Corporation, Coca-Cola Beverages Philippines, Gencars Inc., and Almazora Motors
"For every bottle of Coca-Cola that you purchase, there's an implicit promise that it was delivered with the utmost quality, in accordance with strict safety guidelines, and adhered to high sustainability standards," says CCBPI Logistics and Distribution Director Ruth Genota.
Isuzu FVR trucks with installed Allison Automatic Transmission—the first of its kind in the Philippines—were among the partnership turnover highlights. These trucks' transmission were specially crafted by leading automotive expert Gendiesel Philippines, Inc.
All the turned over trucks delivers Isuzu's 8-Point Advantage: 1) nationwide dealer network; 2) nationwide parts availability; 3) expert Japanese engineers; 4) expert service technicians; 5) mobile medic; 6) drivers and mechanics training; 7) safety driving training; 8) fuel eco-driving training. The installed palletized bottle carriers were made by IPC partner body builders, Almazora and Centro.
The partnership with Isuzu, whose commercial vehicles are known for their reliability and efficiency, promises to deliver dependable transportation solutions to support Coca-Cola's extensive and intensive distribution requirements. Isuzu trucks are equipped with Euro IV- to V-compliant engines that produce cleaner emissions; and with blue power technology, which helps make the trucks more powerful, yet economical and environmentally friendly.
These new acquisitions are in keeping with Coca-Cola's long-standing commitment to reduce carbon emissions and to achieve sustainable operations in fleet management—through the use of low-emission engines in its trucks and through the adoption of new technologies to further improve our logistics and distribution capabilities.
Units turned over to CCBPI
Genota adds, "At Coca-Cola, we make sure that our sustainability practice is a holistic process: our whole value chain, from manufacturing to distribution, has systems in place to reduce our environmental impact. This is a continuous process of improvement, as we work toward further strengthening our environment-conscious policies, across all facets of our operations."
Coca-Cola in the Philippines has delivered strongly on its environmental stewardship across the business and the value chain through its other sustainability pillars: water, energy, and waste. It has achieved 100% water replenishment in the Philippines, via its water-saving programs and waste water treatment in its operations, in addition to providing far-flung communities access to potable water through the AGOS Program. The company sources over 60% of its total energy requirements in the country from renewable energy; and in 2018, Coca-Cola announced its World Without Waste global goal of collecting and recycling every bottle and can sold, by 2030. In the Philippines, Coca-Cola's packaging footprint is 50% returnable glass bottles, while its PET bottles and aluminum cans are 100% recyclable. In June 2019, it launched the Viva! Eco-bottle, the first beverage bottle in the country made from 100% recycled plastic.
The Company will continue to forge partnerships with organizations across the Philippines, who share its sustainability goals—pursuing both the health of the industry and the welfare of the environment.