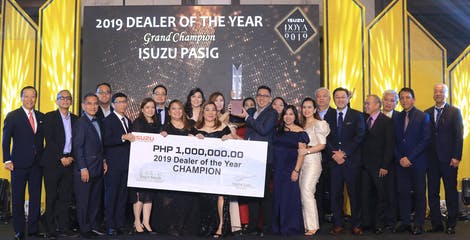 Isuzu Philippines recognizes best sales and service performers in 2019 DOYA
Feb 11, 2020 | NEWS
IPC President Hajime Koso during his welcome remarks
Isuzu Philippines Corporation (IPC) held its 15th Dealer of the Year Awards (DOYA) on February 7 at Hilton Hotel Manila in Newport Boulevard in Pasay City.
The 2019 DOYA capped off a challenging but fulfilling year for the dedicated men and women of the IPC dealer network's sales force and aftersales operations. Held annually since 2004, the DOYA acknowledges the hard work and successful achievements of Isuzu front liners in IPC's dealer principals and operators.
2019 Dealer of the Year Grand Champion, Isuzu Pasig
Achievements awards were handed out to branch, sales, service and parts managers, sales supervisors, and sales executives in an elegant black-tie dinner gala attended by IPC's top executives and managers of the dealership network.
In his welcome remarks, IPC President Mr. Hajime Koso said, Tonight, as we give due recognition to our best dealers and performers of 2019, I would like to encourage all of you to step up to our commitment to serve our valued customers."
"Let 2020 be the year wherein we see a turn-around in our aftersales service and excellence in vehicle sales as we gear towards a sustainable business and as we once again claim the No. 1 position for truck brand this year", he added.
The highlight of the evening was the announcement of the main awards.
2019 Dealer of the Year 1st Runner Up, Isuzu Bulacan
Hailed as the 2019 Dealer of the Year Champion was Isuzu Pasig, with Isuzu Bulacan and Isuzu Sta. Rosa 1st and 2 runners up, respectively.
The Most Improved Dealership of the Year award was handed to Isuzu Makati.
The Sales Executive of the Year in the LCV Category was Migueland Castro from Isuzu Edsa, while the Sales Executive of the Year in the CV Category was Erlinda Erfe of Isuzu Cagayan de Oro.
2019 Dealer of the Year 2nd Runner Up, Isuzu Sta. Rosa
2019 DOYA Awards were also given to Isuzu Pasig, Isuzu Cebu, and Isuzu Bulacan for being Excellent in Sales Operations, Isuzu Bulacan, Isuzu Sta. Rosa, and Isuzu EDSA for being Excellent in Parts Operation, Isuzu Sta. Rosa, Isuzu Cavite, and Isuzu Alabang as Excellence in Service Operations, and Isuzu Butuan, Isuzu Sto. tomas, and Isuzu Cabanatuan as Excellence in Customer Service Operations.
For the closing remarks, IPC Executive Vice President Mr Shojiro Sakoda congratulated the winners, and inspired the rest of the sales force. "This 2020, may we become more ambitious, and being ambitious means that you go out and do what you set out to do."
"Part of that is committing to learning what you don't know because limitations can be overcome, and you shouldn't let your limitations stand in the way of achieving your goals." He added.