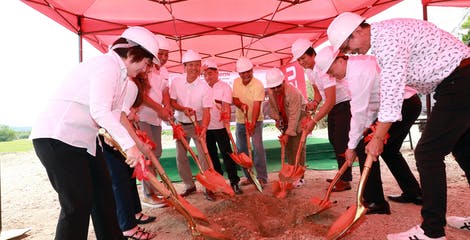 Isuzu Philippines Holds Groundbreaking ceremony for new Dealership in La Union
Dec 18, 2019 | NEWS
On track for its "Road to 50 Dealerships", Isuzu Philippines Corporation (IPC) formally held the groundbreaking ceremony for the new Isuzu dealership in La Union.
IPC led the ceremonial installation of the time capsule on the 7, 300-sqm lot along the national highway in Barrio Paringao in Bauang, La Union. The facility is expected to be completed mid-2020. The Isuzu La Union dealership features the new design guidelines for Isuzu dealerships, which has a cleaner and more streamlined interior and façade.
Benigno Garcia, Chairman and President of One Maharlika Motor Sales and Services Corporation will oversee the operations of this contemporary designed dealership. He added that the 3, 000 sqm showroom can display 4 light commercial vehicles (LCVs) and 2 commercial vehicles (CVs), while the service area can accommodate up to 5 LCVs and 4 trucks in its service bays.
Isuzu La Union dealership also marks a new partnership between IPC and One Maharlika Motor Sales and Services Corporation.
In his remarks during the groundbreaking ceremony, IPC President Hajime Koso welcomed the new partnership, as this would pave the way for IPC to reach more Filipinos.
"We at Isuzu always look for ways to connect and reach out to our customers. Today marks the construction of our new dealership as we aspire to serve our customers here in La Union. Isuzu La Union will be a place of finest Isuzu vehicles, genuine Isuzu parts, and exceptional services," Mr Koso said.
He further added, "La Union is known for its tourism industry, and its economy is diversified with service, manufacturing, and agricultural industries spread throughout the province; and we at Isuzu Philippines are very happy to establish our presence here in La Union, in response to its growing transportation requirements."
Mr. Garcia announced that Isuzu La Union will offer the full roster of brand-new Isuzu LCVs and CVs. "By the time we open in mid-2020, we will offer Isuzu LCVs such as mu-X and the D-MAX, as well as our trucks like N-Series, F-Series, C&E-Series, and of course, the newly introduced Traviz, which is ideal for small and medium enterprises."
In a prepared statement, La Union Governor Francisco Emmanuel "Pacoy" R. Ortega III declared that by 2025, La Union would become "the heart of agritourism in northern Luzon."
He added, "The Isuzu La Union groundbreaking ceremony is a validation that, indeed, it's great to do business in La Union. Isuzu La Union would bring forth a stronger presence in transportation technology in the northern Philippines. Ultimately, this would result to a more robust movement of people, goods and services, which would spark economic dynamism not only in La Union and northern Luzon but the whole Philippines."
To know more about Isuzu's full roster of LCVs and CVs, log on to www.isuzuphil.com or visit the nearest Isuzu dealer near you today.