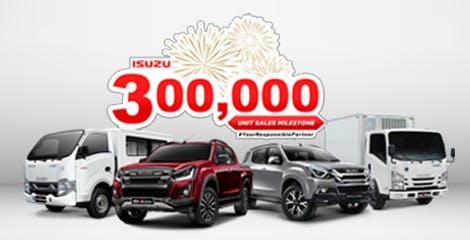 Isuzu PH achieves 300,000-unit sales milestone, vows to continue to provide business solutions
Sep 04, 2020 | NEWS
Isuzu Philippines Corporation (IPC) announced on September 1 that the company was able to achieve its 300,000-unit sales milestone within its August selling month.
One of the country's leading vehicle manufacturers, IPC sold a total of 300,133 units by the end of its selling period last month amidst the decrease in sales volume since the beginning of the community quarantine in March.
IPC said to have an accumulated total of 241,389 light commercial vehicles and 58,744 commercial vehicles, since it started its operation in 1996, with majority locally manufactured in their assembly plant in Laguna.
Operating for 23 years, IPC maintains a strong foot hold in the truck segment, making this year as their 20th consecutive year as the number 1 truck brand in the country. This achievement can be attributed to the company's wide range of commercial vehicles that serves as a reliable business solution to its clientele nationwide.
"The company is honored to have achieved this milestone, and as we move towards the next, we vow to continue to provide business solutions and at the same time uphold local manufacturing contributing to the Philippine economy" said IPC President Hajime Koso. "We are very thankful to our loyal customers, who have been our brand champions and stands as our inspiration in attaining utmost 'Customer Success'," he added.
With more than 40 Isuzu dealerships nationwide, IPC also expresses it gratitude to its dealer network, stakeholders and local suppliers. "We take pride on our strong dealer network, especially with the support we are getting from our dealer principals, shareholders, and parts suppliers, this sales milestone will not be possible without them," said Koso.
In line with the celebration of its 300,000-unit sales milestone, IPC is set to announce special promotions as a treat to its new clients and loyal customers alike. On top of that, the company is also giving back through its scheduled donation of P300,000 worth of PPEs to different quarantine facilities in Luzon, Visayas, and Mindanao regions, living it up to its tag line "Your Responsible Partner". These promotion and donation activities will begin from the last week of September till the end of October 2020.
Follow Isuzu's official Facebook page or visit their official website, www.isuzuphil.com to check on the latest news and announcements.